A golden aged rum infused with oak smoked Pepper Dulse foraged at low tide in Jersey.

started in the caribbean, finished in jersey…
THE RUM
Tidal is a golden aged rum infused with oak smoked Pepper Dulse seaweed foraged during spring tides in Jersey.
 

To create Tidal we've developed a blend of four aged golden Island rums from Barbados, Jamaica, Trinidad and the Dominican Republic.
Our rum is a drink for the end of a long week, the start of a night of adventure, to share with friends or to warm the soul. Tidal is best served on the rocks. It's smooth, oak finished, wholesome flavour warms, replenishes and evokes memories of the seaboard - reminding you of what life is all about.
Infused golden rum
Four carefully chosen rums are enhanced by the unique characteristics of Pepper Dulse. The deep earthy truffle helps to balance the rum, enhancing the blend to create a more complex and refined drink.
All the rums in the blend are aged in Ex-Bourbon American white oak casks.
1. A three year aged column distilled rum from Trinidad - herbal high intensity.
2. A traditional Jamaican pot still rum aged for two years - fiery herbal marine / earthy depth.
3. A Bajan blend of pot and column distilled rums aged for three years - raisin with oak finish.
4. And finally the longevity of a Dominican column still rum distilled from cane juice and aged for two years providing long lasting salted toffee finish.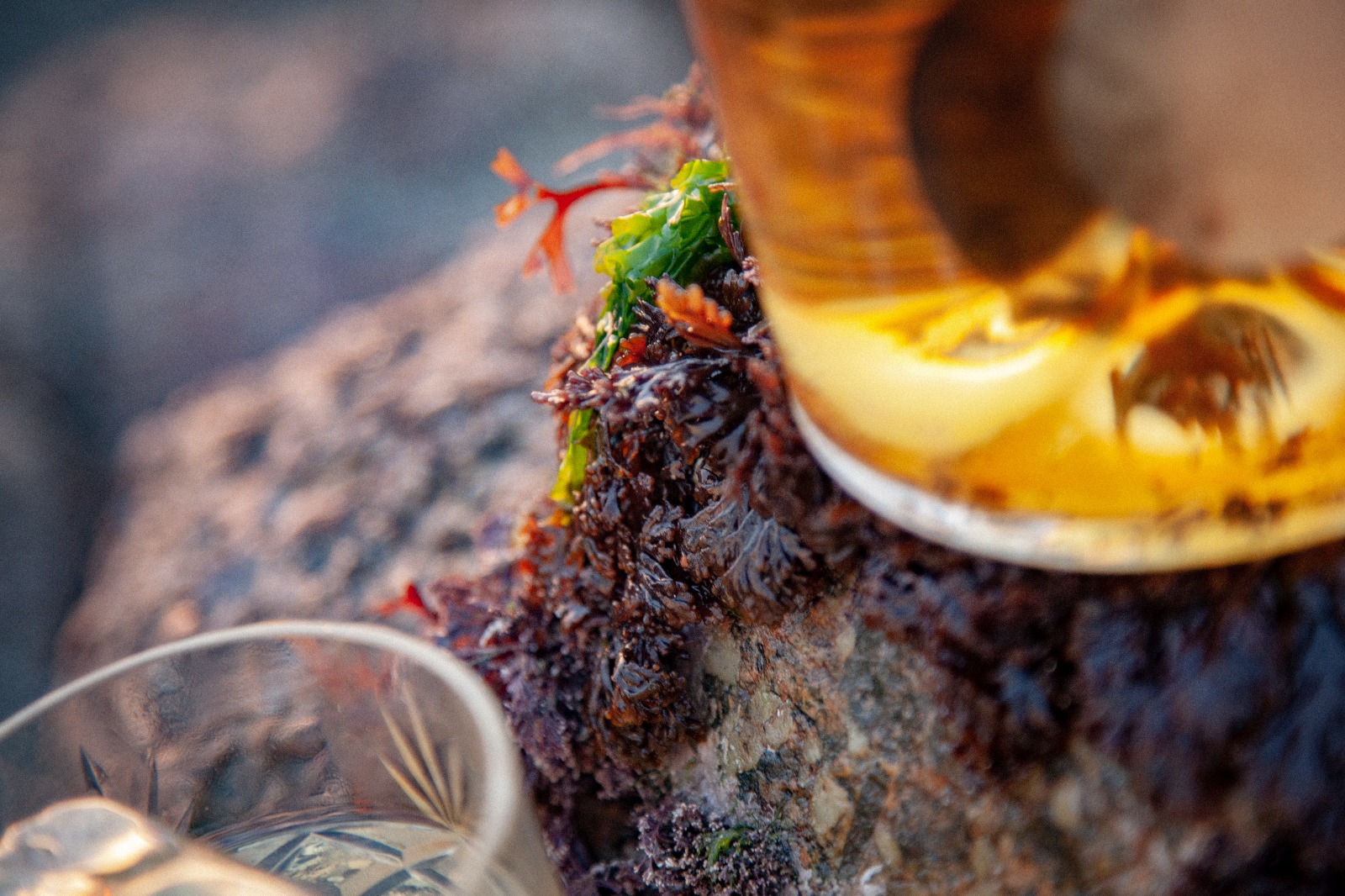 OUR BOTANICAL
Pepper Dulse ("Osmundea pinnatifida") is a little known Jersey delicacy. It can only be harvested seasonally (December-May) on spring tides. A species of red alga, a small but perfectly formed seaweed, widely found in sheltered rocky shores around Britain and Europe clinging to rock from the mid-tidal range downwards. Generally red in colour it can show a wide range of colouring from yellow-buff to a dark red almost black.
FLAVOUR
Pepper Dulse was selected for its intense moreish palate surprising hints of mineral, earthy truffle, and aromatic, subtle garlic and peppery flavours.
It is known as the 'Truffle of the sea'.
foraging
Kazz our resident Jersey based forager introduced us to Pepper Dulse.
Raw Pepper Dulse has an incredible rich deep and earthy flavour. Foraging with him at low tide is great fun and we wanted to share that moment of discovery and intense flavour in our Tidal Rum.
We responsibly harvest the Dulse in season between October and May from sustainable sources. When foraging it is important to trim rather than pick. Our ambition is to create and maintain an environment in which Dulse can flourish in clean water and optimum conditions.
smoking
We gently oak smoke our Dulse to capture and lock in the flavour and compliment the cask finished oak savour of our four rums.
infusing
Our infusion process is simple, we extract the Tidal taste of Pepper Dulse both from our fresh Dulse and our Oak Finished to craft Tidal Rum.